Want to add a special touch to your
Holiday Entertaining?
Bring your culinary skills to the table this
Holiday Season.
Get in the Spirit!
Thursday November 8, 2012
Savories Culinary Studio - 7:00 pm - $50/person
Holiday Appetizers, Treats and Sweets
Holiday Food and Gifts? Which do you like?
Call for reservation today, space is limited.
Savories Offers Cooking Classes for the
Seasoned Pro or Kitchen Novice
Savories offers a variety of cooking classes that are perfect for individuals or groups. These classes are designed personally by Savories owner and founder, Chef Bonnie, and reflect her love of the art and the joy of cooking.

Classes run two to three hours and are conducted in Bonnie's lovely culinary studio located in beautiful Ruidoso, New Mexico. Bonnie's goal is to present cooking not as a chore but as a celebration. She is a Personal Chef certified by the United States Personal Chef Association. Her multi-faceted enterprise was recently acknowledged by New Mexico Governor Bill Richardson as one of the state's top small businesses.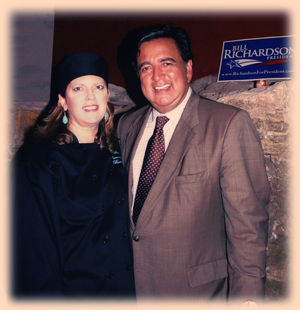 Chef Bonnie Branson with Bill Richardson 2009
Cooking classes are ideal for individuals or groups of "cooking party" friends. A class can be scheduled to spice up any special event such as a wedding shower or birthday party, and the classes are ideal as a corporate team building experience.

Sauces and Salsas: Learn how to take just a few basic ingredients and turn a simple meal into a memorable dinner, from appetizers to entrée to dessert.

Asian Inspiration: This class will teach you about Asian flavors and how to balance those components to create an authentic meal.

Dinner Parties: Focuses on relaxed entertaining by developing the right menu, setting the scene and creating a simple but impressive meal.

Perfect Chicken: A variety of recipes provide moist, delicious chicken entrées and feature roasting, braising and sautéing techniques. We present great recipes for soups, salads, main dishes and sauces, all using organic chicken.

Appetizer Party Essentials: Spending times with guests, not in the kitchen, is the purpose of your party. This class will show you how to do just that while providing tasty made-in-advance treats.
Simply Seasonal: Focus of this class is how to stock your pantry with the basics that permit you to present healthy, delicious meals in minutes. This class is ideal for both veteran cooks and food newbies.

Summer Food: The art of the backyard party is captured by use of the grill for marinades, brining, rubs, pestos and "super sides."

Sweet Thoughts and Chocolate Dreams: Featured are easy recipes and sure-fire techniques to teach you to make special treats for serving as a surprise delight to family and friends or to present as unique, wow-inspiring gifts.