Home
|
Special Event Catering
|
Dinner Parties
|
Custom Meal Service
|
Catered Vacations

Cooking Classes
|
Photo Gallery
|
Recipes Blog

Purchase a Gift Certificate for the special person(s) in your life!
Available in four amounts: $75, $150, $300, $400
Gift Certificates are excellent choices for all your friends and family!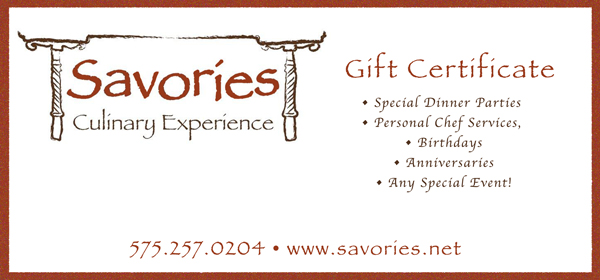 Make your selection and PayPal will complete your order on their secure servers.
You will then be taken to a Thank You page where you can download your Gift Certificate.
They can be used towards any service Savories offers.
If you would like a Custom Gift Certificate please contact Chef Bonnie at 575.257.0204 or email chef@savories.net